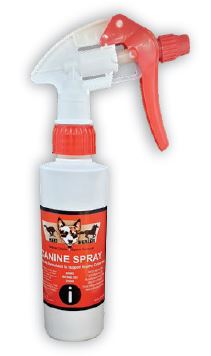 The Famous Red Healer Canine Natural i Spray.
For intensive areas.  A great support to the Red Healer Canine and Equine Cream, the Canine Natural i Spray has minimal smell for inside applications.  Safe if licked by your dog.  Great for paws and underbelly after playing in the garden.
This spray can be used on the whole body area or larger areas.
250ml Spray.
Directions:  Apply every few hours.
Ingredients: Proprietary natural blend including: Aloe Vera, Witch Hazel.  Colloidal Oats, Neem, Menthol, Olive Oil Extract, Limonene and Water.  
You have not viewed any product yet!