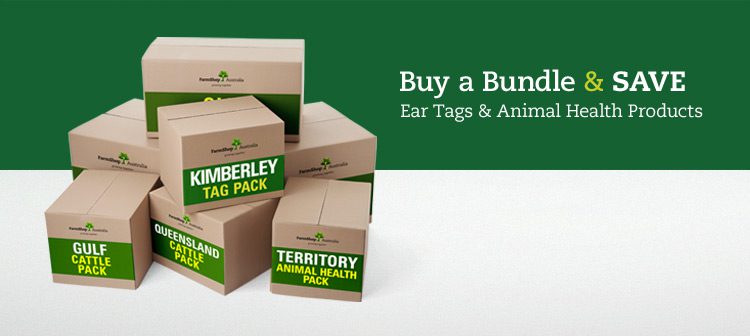 Ear Tags and Animal Health Products – they're an essential part of the cattle industry. So we've bundled a selection of terrific value packs exclusively for the Northern cattle industry. Bundles include a selection of common Allflex cattle tags and applicators, and popular Zoetis animal health products such as Longrange Butulinism Vaccine.
There's a pack to suit your location and prices include shipping to our vet partners in:
Emerald
Longreach
Katherine
Mt Isa
Kununurra
Roma
Malanda and Charters Towers
Coladdi Park – Charleville
Barcaldine
If you'd like to modify a bundle to include different quantities or other Zoetis products, please contact us and we can custom an order to suit.  Or if you'd like to arrange a bundle sent to a different location please contact us.
Current Bundle Packs
---
Kimberley Tag Pack
Kimberley Tag Pack includes:
5,000 Allflex NLIS white breeder tags, long stem button and applicator
5,000 Allflex large A one piece tags, with printed description and applicator
---
Territory Animal Health Pack
Territory Animal Health Pack includes:
25 x 500ml pack of Zoetis Long Life Botulism Vaccine (10,000 cattle dose)
1 x 22L Zoetis Pour On Dectomax (1,450 cattle dose)
20 x 100ml Zoetis 5 in 1 Ultravac
---
Gulf Pack
The Gulf Pack includes:
1,500 Allflex NLIS white breeder tags, long stem buttons and applicator
1,500 Allflex Large A one piece tags, printed with description and applicator
5 x 500ml pack of Zoetis Long Life Botulism Vaccine (2,000 cattle dose)
4 x 5L Zoetis Pour On Dectomax (1,450 cattle dose)
---
Queensland Pack
The Queensland Pack includes:
1,000 Allflex NLIS white breeder tags, long stem buttons and applicator
1,000 Allflex Large A one piece tags, printed with description and applicator
5 x 500ml pack of Zoetis Long Life Botulism Vaccine (2,000 cattle dose)
4 x 5L Zoetis Dectomax Pour On (1,450 cattle dose)
10 x 250ml Zoetis Ultravac 7 in 1 Vaccine
---